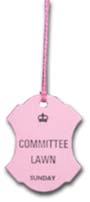 COMMITTEE LAWN
Not Strictly an Enclosure, the committee lawn is a special restricted area of the Stewards Enclosure.
Committee lawn is right next to the regatta offices, where the day to day activities required to organise the racing take place. As well as a door from 'regatta central', it can also be accessed either from a gate beside the umpire launch walkway in front of the Bridge Bar railings, or through Stewards itself, the heavily policed entrance being situated next to the floating grandstand.
Quiet and secluded, only Stewards, their Guests and Officials of the regatta, can gain admittance to this area so it probably has the most exclusive clientele and many famous rowing faces of the past and present can be found here, along with their bored teenage children who are inevitably gazing towards the activty of the main Stewards enclosure with ill disguised longing.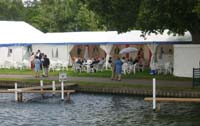 The main feature of Committee lawn is a well stocked bar decorated with large copies of Vanity fair "spy" images of Oarsmen of old.
While the lawn itself suffers somewhat from the fact that you cannot see the racing, all is not lost, for there are infact two viewing platforms.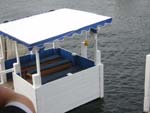 The smaller, which surely is the MOST exclusive area of the whole regatta, is a little viewing platform at the end of a walkway which can only be accessed by Stewards, those with lesser silver badges may not enter here, nor even, heaven forbid, their spouses, who can instead watch the rowing from the viewing platform on the ground floor of the floating grandstand, which is referred to as "the hen coup" for obvious reasons...
Well worth a visit if you can manage to secure an invite.
Next: STEWARD'S ENCLOSURE
---