Though not actually on the regatta course, Leander is somewhere that you may well wish to be seen, for this is where you are most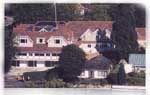 likely to spot the odd rowing knight, Olympic champion or rowing pin-up.
For those ladies (or gents) who want an opportunity to ogle members of the GB squad helping each other in and out of boats, there is no better place, just settle yourself down by the window with a drink and enjoy the view.
Thanks to its location by Henley bridge, the Pink Palace is always a convenient place to stop off for a quick top up when you are staggering back to your hotel, tent, guest house or just the train.
In recent years the club has erected a substantial two story marquee on the grass next to the clubhouse, which provides excellent seated lunches on both levels and also houses the outside bar by the boat bays and additional toilets.
Current Leander membership criteria is based on one of two factors:
Proficiency in Oarsmanship. i.e. International, Blue or Henley Winner

Living close enough to be able to use the facilities for social purposes outside regatta week.

The club colour is cerise and it is possible to spot those who are class 1 members as they are entitled to wear the full pink i.e. tie, socks, cap etc. Rabbit advises any ladies to try to associate with a full pink, as he will probably be able to introduce you to the right people.
Class 2 members are referred to as "associate members" and are not entitled to wear pink.
Current estimates put Leander membership at over 3000 - but in the dark days of the 1970s and 80s they'd let practically anyone take class 1 membership, so if the wearer is of a certain age, don't assume pink socks and a badge means they have a pedigree.
As with Stewards and Remenham, there are still dress rules and behaviour rules to adhere to.
Payment by Cash, Cheque or Credit card is accepted here.
The ladies Loos in Leander are rated as second best on the course.