COMPETITORS / BOAT TENT AREA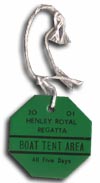 Accessible to: Coaches; Competitors; Regatta Officials; Accredited Press; those who have been able to blag a "boat tent" pass (see right) and People with Tags for the stewards or general enclosures -- this is the best place to observe (letch at) the Adonis-like physiques of some of the competitors. Those hoping for a quick ogle at their favourite GB Squad members may be disappointed however, as they tend to boat from Leander.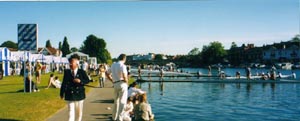 There is an excellent cafeteria here, but the price of the tea is quite extortionate.
It should be noted that there is a severe danger of meeting Junior Parents in this area, which although better than having them run into you at full speed on the towpath while screaming "come on little Jonny", is still to be avoided where possible. Junior Parents are the scourge of the regatta as they are always exceptionally over enthusiastic and vociferous regarding the chances of victory for their offspring.
AVOID THEM AT ALL COSTS
Next: UPPER THAMES
---