UPPER THAMES
Once known as the wooden scout hut next door to the Remenham club, Upper Thames has recently transformed itself into the "ski chalet next door to the Remenham Club" - though if you look closely, the scout hut is still there...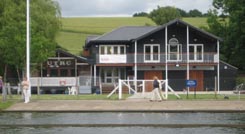 Upper Thames' presence on the site started in the 1960s when they leased the old boom-shed from the then owner, Harold Duce, to store the fledgling club's boats. When Duce's request to build a house on the site in 1980 was turned down by the local council, he sold the land to the club and it's been upwards and onwards ever since.
Upper Thames own the land from Remenham Club to Old Blades and make a lucrative annual income from leasing it out to Pernod etc each year, the funds from which has helped them to build their rather gorgeous new clubhouse.
During the Regatta, the Upper Thames Enclosure reveals a softer side to the otherwise brittle reputation for which the club was once famed. The lawns are full of smiling families, picnicking groups and snoozing veterans. It is peaceful, moderately exclusive, familial and the Pimms and food are excellent and good value.
It is, as you would expect, all a sham.
The sham is revealed if, from the towpath looking into the club's hallowed grounds, you spot one or two members indulging in that rarest of activities - actually watching the racing.
If you can, try and spot them watching their own club racing down the Henley course - then true colours are revealed in all their glory, for the delight at seeing their own club members being (inevitably) stuffed is a sight to behold. An occasional cheer will go up when the final "and the result of that heat of the Wyfold Challenge Cup is that Shitesville Amateur Rowing Club "D" beat Upper Thames Rowing Club "A", the verdict: 5 lengths".
But that aside - the Upper Thames Enclosure is the place to be if you want to RELAX but want all conveniences to hand. Open only to members of their rowing club and their guests, it is:
secure;

informal (no dress code here - marvellous for getting drunk with indignity);

the crowds come to you (in time, EVERYONE walks past, looks in, and long-lost acquaintances are re-established)

the shopping tents are nearby (essential purchases of brollies, summer pashminas, cappucinos and a fetching pair of new shoes),

the meals and drinks are on tap all day with very little queueing,

there's shelter if it rains,

provides easy access to loos, tea and cakes,

has parking right next to the club,

has a small marquee,

has elevated standing spots to watch racing AND

it is never, ever overcrowed.
An oasis of relative calm in the madness of it all. Highly recommended, and all in all, a very pleasant place to hang out for a couple of hours..

And the price? Just join the Club. Contact www.utrc.org.uk for details.

Next: REGATTA ENCLOSURE
---