REGATTA ENCLOSURE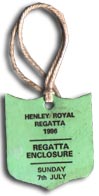 The Regatta enclosure, or general enclosure (as it is sometimes known), is located immediately next to the Stewards Enclosure. Any member of the general public may be admitted, subject to availability of badges.
Access to the general enclosure is gained by:
possession of a competitors badge

possession of a stewards enclosure badge.

possession of any press badge

payment at the entrance (2009 - prices: Wednesday £12, Thursday £12, Friday £15, Saturday £20 and Sunday £15), or you can purchase tickets in advance from the Badge Office from the start of April (subject to availability), A discount of 10% is available to parties of more than ten people for Wednesday, Thursday or Friday of the regatta. Application form
The area includes a grandstand (not covered) which gives a good view of the course for anyone without a Stewards or Remenham tag who wants to watch the racing in relative comfort. It also provides a good view of what your missing on the far side of the Stewards gate rotweillers...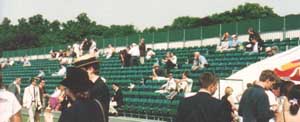 There are no dress rules and it is here that a lot of competitors go to watch whilst incognito in jeans and t-shirts, though children under the age of 14 are not allowed in. There is also a bar and reasonable catering facilities, though take note that picnics are not allowed.
The loos are passable but to be avoided later in the week, as they are en-route to the Stewards enclosure and get a lot of usage.
Next: PHYLLIS COURT
---