PHYLLIS COURT
Affectionately known in rowing circles as "syphilis court", the Phyllis Court Club is a private members club situated opposite the Stewards enclosure on the Buckinghamshire Bank.

As well as featuring a large pink house/hotel and spacious grounds, Phyllis Court members have access to the large Grandstand opposite Stewards at the finish.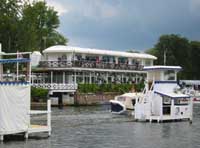 Dress code is designer label.
Membership is by pots of cash.
Not populated by rowing people but worthy of note for some of the hideous creations which can be seen through binoculars.
Amazingly, Phyllis Court now does have a small rowing section and they occasionally send out a novice/veteran women's IV+. The Club recently became affliated to the ARA, but the rabbit is a long, long way off counting their badge as part of the FMJ
Next: REMENHAM FARM / BARN BAR
---