REMENHAM FARM / BARN BAR
Somewhat confusingly named as it is near the Barrier... Remenham farm is next to Remenham Church and village, it is nowhere near the Remenham club for which it should not be mistaken.

The land (and the Barn Bar itself) is owned by the Copas Partnership (and a nice little earner it is when not breeding turkeys). Most of the Remenham farm area is free for all to wander around, enjoying the stall based shopping opportunities, or stepping over the comatose / drunken / copulating couples who can be found near the bars at the start end of the course at the weekend.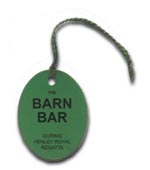 Entry to the infamous Barn bar is free on Wednesday, Thursday and Sunday, while on Friday and Saturday it is reserved for those willing to pay the small entrance fee of £5.00 a head.
Regatta Officials and those with Stewards or general enclosure tags don't have to pay and those parking in the offical Copas carparks (such as Remenham Hillside, also get a free pass thrown in). It has a bar that anyone may attend and usually a dodgy Jazz band playing tunes enthusiastically to the masses.
The facilities have improved massively over the last few years, especially round the shopping area, which now has some smart bars, well placed for sitting and watching the rowing.

Details of all the facilities available near the start are available on the Copas website
This enclosure is mainly frequented by Members of the general public and members of majorly low performance rowing clubs which cannot muster enough Stewards enclosure members to have a worthwhile drink-up in the Falling-over Bar (see section on drinking).
These individuals can normally be spotted there on Wednesday, or Thursday at latest, enjoying a drink having been knocked out, (if they even qualified). Low performance rowers are easily identified because they can frequently be observed having an alcoholic picnic, whilst dressed as if they were in an enclosure with a dress code, but with no tags in evidence.
Its redeeming features are,
1) that you can have a picnic in there;
2) there is no dress code
3) it is very relaxed
4) you can get reasonably priced turkey sandwiches to nibble on and
5) it provides somewhere to stop for a welcome reviver after the long walk walking to the start

The loos here are somewhat basic (see accompanying photograph) and as the week progresses, are best avoided at all costs by both sexes.
Next: HOSPITALITY ENCLOSURES
---