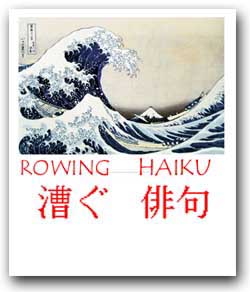 with many thanks to: Kath; Justin; Iain; and the low performance gurus -- Stephen and Andrew.
---
Rabbit oh Rabbit
Furry ears hear all the goss
Celebrity tart.
---
Peterboro' Party
Naked antics start again
sweaty men climb pole.
---
More time on the slide
The coach implores; crew ignores
not just time wasted
---
Party frocks on today
Below the knee, Stewards say
Hope it doesn't rain
---
Where's my ten-mil wrench?
Riggers lie quietly on the grass
Waste of entry fee
---
Fe Fie Fo Fum I
Smell blood of'n Englishman;
Long name for a boat
---
Coach loves the smell
of two-stroke in the morning-
it tastes of victory
---
Power and strength
without true application
become an anchor
---
Acheronians
drink, sleep late, outing, beer
another way to row
---
Through the haze of Pimms
The Remenham roar rings out
winning boat appears
---
blades flash through the mist
the oarsman still upon the shore
is full of regret
---
lycra clad bodies
allow boaty girls to tell
who is 'big' or 'small'
---
---
Remenham champers
By lunch, cheque book is empty
Seeing two Rabbits
---
Dial-up Internet
Check for Slug updates? Oh Shit!
Embarrasing pics.
---
Hope springs like green buds.
Henley Goblets first round draw,
It's Leander. Bum
---
Catch like breaking ice
Not like flowering daisy
Video will show
---
Sun high in the sky
Rowers are dehydrated
2k time is slow
---
Travel hopefully,
Though winter training went well
Lea win by 8 lengths
---
Cricket on the green
Barbecue at Peterborough
Coach dropped you last month
---
Hot weeks pass without
A pot. But still try your luck
At Cambridge Autumn
---
Dust motes play in sun
Through boat house windows shining
On silent singles
---
Sunrise on river
Sweet surprise of clear blue skies
Reflects in puddles
---
wood smooth in my hand
summer heat upon my back
blister bursts to pain
---
Blade into water
Hands up, lock on, legs connect
Pressure, movement, run.
---
icy waters rush on
with no regard or patience
for the sculler's art
---
Race so hard it hurts
Gasping for air, harsh breaths
Umpire signalls. WON!
---
summer all-in-one
leaves no doubt in coach's mind
who ate all the pies
---
seat race for the head
someone is left on the bank
time to learn to scull
---
Fireworks replace the sun
talk of races won and lost
A Henley evening
---