FOOD
Always a subject dear to a rower's heart, the subject of sustenance is a serious one, especially as little rabbits need plenty of carrots if they are going to drink their way through the day without passing out by 2pm.
Now before rabbit launches into a long list of where you can chow down on the course, don't forget that a short hop away from the regatta course is the town of Henley itself, and in it an ample range of restaurants; fast food joints; sandwich shops and tea shops, indeed this is your best choice if you want to start the day with a hearty breakfast but haven't had time to eat before leaving home.
However, once you arrive on the course, there are several options open to you:
PICNICS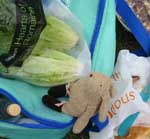 Surely there are few finer things in life than sitting by the river on a sunny day with friends, watching people exercise while you pig out on a HUGE spread of food. Whether your picnic consists of some carrots brought in a bag and a few tinnies, or the full out - table chairs; linen tablecloth; crystal glasses; the family silver; champagne and 5 course meal, (I'm not joking here), HRR provides the perfect backdrop.
There are several options available for picnickers but remember that, as with alcohol, you will not be allowed to bring your own food into either Remenham; Leander; Stewards or the regatta enclosure, you also won't be allowed to bring in your empty hamper after you've finished, so if you are planning a feed on the towpath, make sure you have somewhere to stash the leftovers (someone's car is best) or just go casual for the day and join the crowds by the Redgrave Bar.
The Copas partnership (the people whp own Remenham farm) have the picnic market somewhat sewn up, as they have plenty of available space over the first third of the course to rent out. As with all things at the Royal, there are different packages on offer at different prices, so if you'd rather not risk being stood on while eating next to the towpath (the free option) there are alternatives to suit your needs.

Just down from Remenham farm towards the start is the "courtyard enclosure". This is a BYO enclosure located on the riverfront, so you can watch the racing while you feast. Picnic space doesn't come cheap though - at around 60 quid a head for the day. Refreshments are available at a cost if you don't want to self cater, but they do have a dance tent, oh, and children are not allowed.
A short distance from there, down the towpath towards the start, you'll find the Remenham Meadows Car Parks. If you can get in the one by the river (rather than the one behind the corporate hostility tents) you'll have a reasonable view of the racing while you're enjoying a picnic next to your car. Turn up early for a good position or even better, reserve in advance. Prices range from £35 for a back row space on Wedensday to £80 for a front row space on Saturday, but that is per car rather than per person (Minibuses cost more). You can even hire a picnic table for the day.
Car parks are generally a popular place for picnics and those located behind Stewards, on Remenham hillside and next to Upper Thames are always busy. If you don't have access to the enclosure car parks, anybody can fork out for a space in the reserved Car Park near the Barn Bar. There is ample room for picnicking next to your car and plenty of people set up Gazebos to shelter them from the elements - you can even hire a picnic table if required. Not a bad place for settling down but you'll only be able to see the racing if you have a front row space.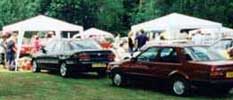 If you're not willing to pay out, then it's a matter of finding a suitable spot on the riverbank and spreading out your rug to claim your space. A word of warning - be careful where you sit as the towpath can get very crowded on Saturday and Sunday of the regatta, and you risk getting trampled if you sit where the path is narrow.
SNACKS


If you're looking for something to nibble on during the day, there are plenty of options open to you. The Start Bar, located oddly enough - by the start - does a nice line in Strawberries and cream, the Barn Bar serves burgers, hotdogs and sandwiches to the masses and for the finest in Culinary Skills... don't forget the Caravan Stalls...
Located just down from Upper Thames, these realistically provide what you want - when you want it. Rabbit has found that a quick stop, in a queue of good looking types, for a burger made of dubious ingredients, usually puts a nice layer of lard in one's stomach to help with the alcohol which is already there and that which is to follow.

The people who work in these caravans of fast food are experts who know their audience and serve to their every craving. Fries, kebabs (nothing better than a dodgy kebab on your breath to kill a Henley snog), burgers, hot dogs, crepes (for the Henley female twigs who want to watch their diet) and loads more, The Rabbit predicts that more food will be served, eaten and vomited back up from these establishments than at any other Henley venue.
ENCLOSURES

Upper Thames does a fine buffet lunch every day - good food and excellent value
The Remenham Club serves coffee and Danish pastries on the mound in the mornings. Full lunch is provided in the marquee by the clubhouse over two sittings (buy your tickets early if you want to sit with your friends). There is a choice of starter, main course and pudding available, and the food is excellent and not over priced. For 2007, the traditional barbecue held at the clubhouse on Saturday evening before the fireworks display, is being supplemented with a curry buffet which will no doubt go down very well after a day on the Pimms.
The regatta enclosure has catering facilities behind the grandstand (there's a bar there too)
Stewards has several eateries on site - from the Oyster bar - serving seafood throughout the day, to the main restaurant (which provides full 3 course lunches) to the cream teas and strawberries available throughout the day.
The competitors enclosure. There is an overpriced café in the competitors enclosure next to the boat tents, which provides a welcome place to hang out while waiting to boat. For some reason the competitors cafe also seems to attract groups of people from Stewards, who just come in to hang around and watch for hours on end clogging up the restaurant. Now, while the rabbit doesn't have a problem with real supporters coming in to meet crews coming off the water, this sort of behaviour is to be frowned upon and is not appreciated by the competitors.
Leander Club. As with Remenham and stewards, Leander offers full 3 course sit down lunches in a rather nice marquee.

---
/Introduction/Dress Code/Enclosures/Car Parking/
/Rowing/Drinking/Food/Entertainment/