ROWING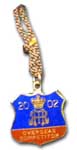 Rowing is of course the reason that "The Royal" exists. It is such a special and unique event that Multiple Olympic Champions still wish to come and race there.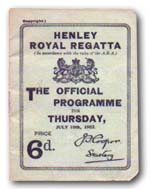 Nowhere else can you experience the Remenham Roar and the Enclosure wall of sound. Winners will tell you how those noises and the accompanying sensation of having the audience sat right next to you, draw you home.
Losers tell harrowing tales of deathly silence and polite applause, the fact that "the bloody enclosures were empty" or even worse: the loud and clear verdict of "easily" being awarded to the other crew as they pass the tannoy at Remenham, but those who tell these particular tales should remember that there are very few people there before 9:00am on any given day.
Side-by-side racing is much more personal and much less forgiving format than that of multi-lane events. It also requires a much higher understanding and preparation of race tactics, which is why the rabbit can bever understand why club crews (whose declared main focus for the year is HRR), insist on doing the majority of their racing at multi-lane regattas, leaving themselves mentally very unprepared on the start line at the Royal.
Even though Olympic years tend to see less of an international squad presence, in 2004 the finals of the premier events were either won by, or contested by, crews which between them went on to get:
One gold, two silver and two bronze medals at the Athens Olympics.
Other premier events were won by Olympic crews.
The other events were won by High Performance clubs, universities or schools.
On the other side, some people finally achieved their ambition of actually qualifying to race at the regatta before being unceremoniously dumped on Wednesday or Thursday.
A certain crew, realising the extent to which they were about to be humiliated decided to fall upon their sword and withdraw before their race, leaving their frustrated opponents to Row over under the beady eye of their jackbooted coach.
To help you understand this vital element of Henley Royal Regatta, the Rabbit has observations about many aspects of the rowing.
Some come to win, others just strive to actually be on the regatta course during the five days of the regatta .
For truly low performance clubs, getting a crew into the regatta is the summation of their ambitions. If fortune truly favours them, they might win a round before meeting a medium performance club and getting unceremoniously beaten to a pulp. The Areas that Rabbit will now take you through are:
---
/Introduction/Dress Code/Enclosures/Car Parking/
/Launch Trips/Rowing/Drinking/Food/Entertainment/