At regatta time, there are numerous clubs and enclosures to frequent along the Henley Reach, but the only one that most people aspire to getting into is the Stewards Enclosure. This is the equivalent of the Royal enclosure at Ascot and is one of the places to be seen during the season.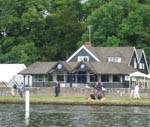 For those in the know, this perceived hierarchy is incorrect, for they, like the Rabbit, understand that exclusivity rules and for various reasons listed below, the Remenham Club is the place to be.
n.b. If you are not a member of some of the enclosures listed in this guide, you can usually only obtain tags for getting in through people who are. The tags are not on sale to random members of the general public unless you cough up loads of money for a day "package" through an events company and even then, you still won't get access to Remenham.
Be very careful about either buying or selling tags on Ebay as although Henley Royal Regatta does not receive e-mail, the stewards do know how to use a computer. Several (now ex) Stewards' members have found this out to their cost, when the bidder turned out to be a member of the committee using a pseudonym... suffice to say, they won't be doing it again.
Special note should also be made of any people you know who are in possession of a Full Metal Jacket (see below), as they will have access to all the worthwhile enclosures and you may be able to obtain tickets through association with them. Rabbit suggests that you nurture acquaintances (i.e. buy them beer and laugh at their jokes) with people like this, as much as possible, to ensure that your annual tag requirements are met.
If you are not able to get tags through an enclosure member, it is still possible to gain access to the General Enclosure, River bank or the Barn Bar and you donít have to worry about any dress code.
Standard View of Enclosure Hierarchy
click on the links to read more
Full Metal Jacket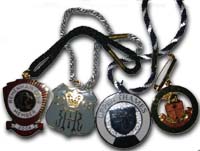 This is the term used to describe someone who is a Member of the Stewards Enclosure, Remenham Club AND Leander Club - or at least it used to be...

For Upper Thames have upped the stakes and got in on the act with metal badges of their own, which will no doubt be a great source of angst to those who thought they were FMJ, but are now lacking, in fact, rabbit is only aware of two people who have all four badges.

Anyway, be they old or new FMJ, these individuals are easily identified by the proliferation of metal badges on their blazer (you can hear them clinking from some distance away), and is a person to cultivate, as they are your conduit to tags for all the desirable enclosures.

Depending on just how well you smooze them, they might take you as their guest and you wonít have to pay a penny for your tags... and possibly your drinks etc (See section on behaviour)

Otherwise they will ask you to pay for the tags they get you.. and make you buy the drinks.
---